The Story of Eva Roje
The story of Irina, the force behind Eva Roje, unfolds like an enchanting saga, a vibrant tapestry woven with passion, inspiration, and unwavering determination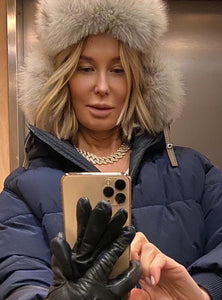 Born in the scenic port city of Novorossijsk on the Black Sea, young Irina was a beacon of fashion ardor. With every gleam of western magazines that found their way to her through sailors, she would meticulously curate her world, dreaming beyond her surroundings, clipping out striking fashion images that whispered of far-off places and styles.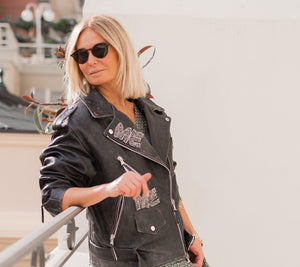 However, it was the sun-kissed streets of Monaco that truly captured Irina's heart. Amid the glamorous backdrop of azure waters and glitzy soirees, she felt a connection, a call to create. A chapter that began with the inception of the renowned ALINA brand back home blossomed into a story of inspiration on the French Riviera. Monaco's rich tapestry of culture and elegance served as the perfect muse. 
Here, amidst the allure of coastal beauty and the legacy of fashion icons, she embraced her lifelong ambition, transforming it into a tangible dream: launching her very own signature fashion brand. This place not only offered a stage for her creations but also an environment that resonated with her aesthetic and vision.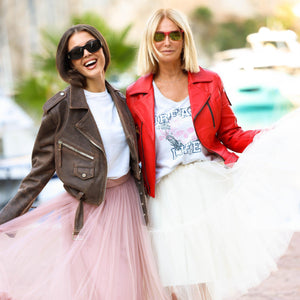 Eva Roje emerged from this dream—a testament to luxury, craftsmanship, and innovative vision. Delving deep into her vast network, Irina partnered with Italy's finest leather artisans, ensuring every creation echoed perfection. 
Her designs, a blend of timeless allure and contemporary femininity, reinvent classic leather pieces. Every stitch, curve, and detail speaks of her journey, her imagination, her dreams. 
Eva Roje isn't just about fashion—it's a universe where your dreams and Irina's artistry intertwine, crafting masterpieces that transcend time.
The Story of Eva Roje
Interview with Irina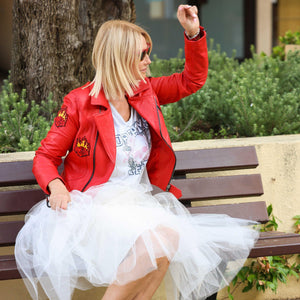 What is the concept of Eva ROJE?
I design premium leather clothing for modern, elegant, and sexy women. I like to imagine that my clients are sometimes a bit rebellious, but in any case, they are free, independent, and powerful. I wanted to create a somewhat exclusive brand, or rather one intended for women who love beautiful pieces and offer the best possible quality. This is why I have my pieces handcrafted in Italy with premium leather typically reserved for major couture or leather goods brands. I want my customers to be happy and proud to wear my creations and feel free to create looks and styles that suit them with those pieces.
How would you define the Eva Roje woman?
I have many adjectives in mind: happy, sexy, elegant, modern, optimistic, open, fulfilled, determined... In fact, I believe the word that best summarizes it is: a free woman. Free in her choices, embracing her femininity, her strengths, and her weaknesses, an elegant woman in tune with the times.
Where do you draw your inspiration from?
From my travels, my readings, my background, the women I meet, museums, the Mediterranean... I am truly like a sponge, constantly feeding my imagination. Then, I try to convey it through my clothing, and I am very happy when my customers share this vision and adopt my creations.
Why did you choose leather?
I have always been captivated by this material: what it expresses in terms of sensuality, strength and softness, elegance, but also its slightly raw and primitive aspect that goes back to the basics, to the very essence of our personality. Leather has a millennial history: since the dawn of time, humans have used the skin of the animals they feed on to dress or shoe themselves. I was also fortunate to be in contact with the best tanneries and the finest Italian craftsmen to work with this material, which usually only the biggest luxury brands have access to. Through Eva Roje, I try to make women who identify with this style benefit from it. To me, leather is a timeless and evergreen material.
How would you define the Eva Roje look?
Once again, it's about freedom. I want my creations to fit the desires of my customers, their personality. In fact, it's my customers who create the Eva Roje look. In any case, I want my designs to make the customers who wear them feel happy and creative. And thank God, if I believe their testimonials, that's often the case.
View Our Made-to-Order Collection